THE TRONTO TRILOGY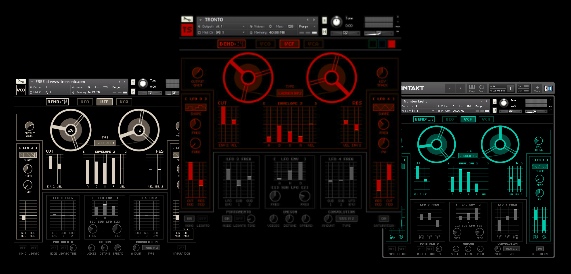 TRONTO
Vintage Analogue style Polysynth
Must be used with Native Instruments
KONTAKT 5.0.3 or later

(FULL RETAIL VERSION NEEDED)

- 7 waveforms + pink and white noise from 1972

synthesizer oscillators



- Recorded with 50 year old valve pre-amps to vintage tape

- A choice of 30 filters
- 6 LFOs, two per section (oscillator, filter, amplifier)

- 2 global LFOs and an AHD envelope modulating each of the 6 LFOs

- 36 variations of spring reverb

- 200 Presets - Easily assign knobs and sliders to external controllers

- Unique 'saturation' button with custom tape/tube impulse response

- Choice of 3 interface colours

- Incredibly intuitive to learn and operate
With an identical interface to Tronto (minus the 3 colour themes), DCO is sampled WITHOUT TAPE from a famous 80s Japanese

DCO polysynth.




The lack of 'real' tape saturation allows for very accurate sampling of the waveforms - enabling stability and PRECISION within synthesis.

Utilising a custom tape impulse response coupled with Kontakt 5's tape saturator, the sound appears very present and full.







CONCEPT, AUDIO AND PATCHES BY TRONSONIC
KONTAKT SCRIPTING AND CO-DESIGN WORK BY MARIO KRUSELJ : mario.kruselj@gmail.com